About us
Meet Tony Wilkinson, a.k.a. HogDoc, founder and owner of Hogdoc Motorcycles.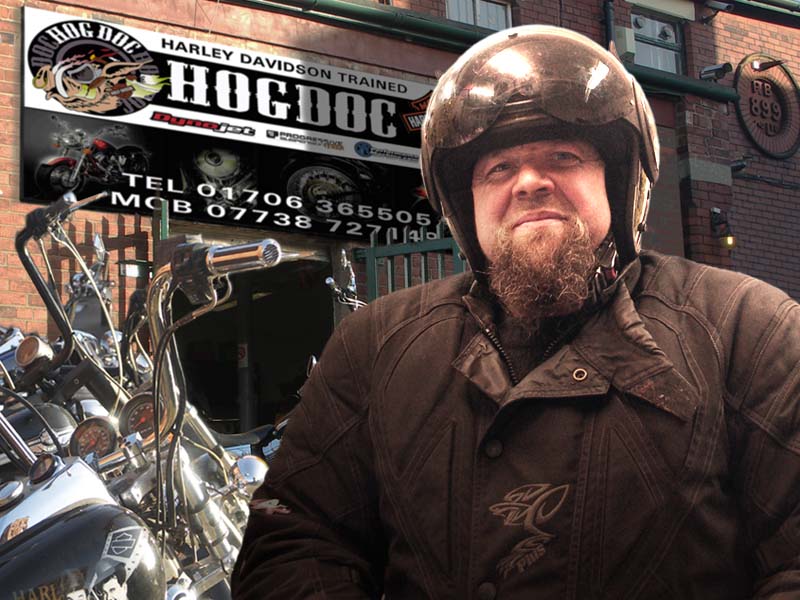 Tony is a passionate biker who started HogDoc in 2002 when he recognised that people wanted a local, friendly expert to provide all aspects of motorcycle engineering, particularly working on Harley Davidson motorcycles.
Tony has over 25 years experience in engineering with his technical roots in the Mechanical, Electrical and Hydraulics areas. Wanting to work in his favourite area he started working for the Harley Davidson company many years ago, completed their training program and then worked as an H-D engineer up until starting out on his own as HogDoc.
Formally, Tony is qualified at C&G level in Engineering and, of course, in the H-D certification process. What customers recognise is that Tony's knowledge far exceeds that which is shown on his certificates. His knowledge is extensive and his understanding of what makes a fine motorcycle is vast. He brings the same passion to a routine service as he does to a full custom build.
To support HogDoc motorcycles, he has a vast range of contacts he can call upon to carry out the specialist services which may be required during any project.
Tony talks with and listens to his customers, takes the time to really understand their need and then treats their pride and joy as if it were his own.